OSLO Mass murderer Anders Breivik has been given a computer in his prison cell so he can reply to thousands of letters from his twisted band of fans.
Breivik has been spending eight hours a day typing replies to the sick letters sent to him by supporters since he massacred 77 people most of them teenagers in Norway last year.
The neo-Nazi is also using his computer to keep a diary of prison life which he eventually plans to publish.
His lawyer Vibeke Hein Baera,who visits Breivik every week,told S u n d a y M i r r o r: He gets many letters from around the world.These he replies to the old-fashioned way,by writing a letter back,and posting them.
One letter to the killer said chillingly : Thank you for a well conducted operation,but it is of course sad that you are where you are now. Another fanwrote :Bothyouand we know you are not psychotic,but a fully aware person that sacrificed yourself for the cause. Breivik,33,is in a maximum security ward at Telemark Prison near Oslo.SUNDAY MIRR

Chalukya




Posts

: 109


Join date

: 2012-06-01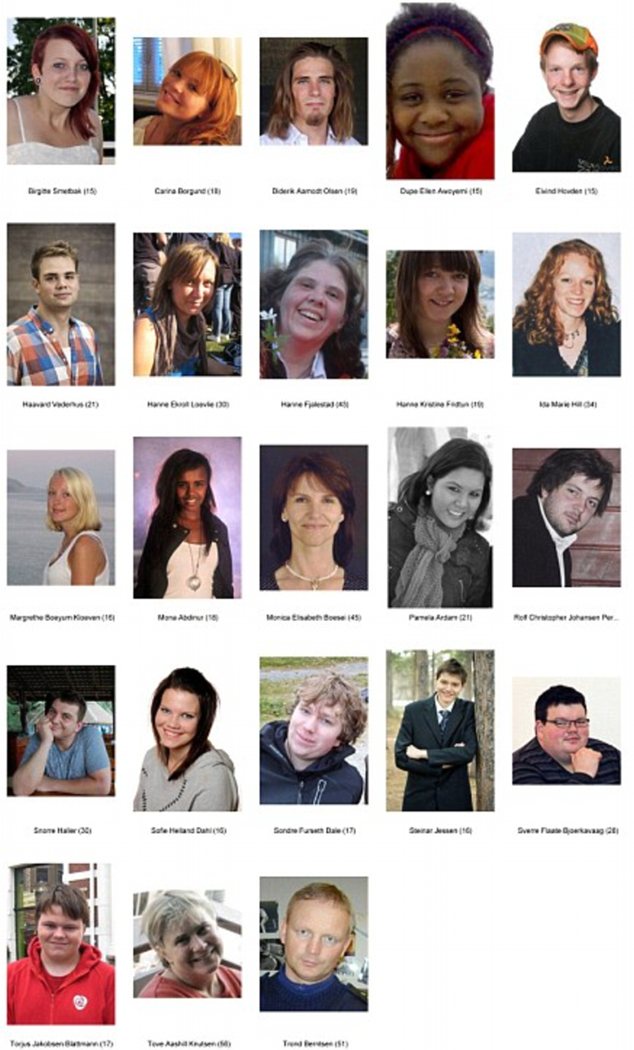 Victims: Just some of the 77 killed by Breivik in a day of carnage last year

Chalukya




Posts

: 109


Join date

: 2012-06-01



EXPLOSION AND THEN A MASSACRE: THE CHILLING EVENTS OF JULY 22, 2011
The carnage caused by mass-murderer Breivik began with a bomb in Oslo and culminated in a massacre of young people on the island of Utoya.
Eight people were killed when his device exploded at the high-rise building in Oslo at 3.26pm local time on July 22 last year. It left a dust-clogged square covered in twisted metal and shattered glass.
Police described it as an 'Oklahoma city-type' bombing, targeting a government building, perpetrated by a home-grown assailant and using the same mix of fertiliser and fuel that blew up a building in the U.S. in 1995.
The bomb was packed into a panel truck outside the building. An agricultural supplier said Breivik bought six tonnes of fertiliser in the weeks before the explosion.
But as police battled to deal with the effects of the bomb, a much more deadly attack was about to begin 20 miles north-west of the capital.
Breivik, dressed as a policeman, drove to a lake outside the capital and took a ferry to the island of Utoya, where hundreds of young people were attending a summer camp organised by the youth wing of the Labour Party.
At around 4.50pm he opened fire, claiming another 69 lives. It is claimed that he beckoned to his young victims before shooting them one by one.
Survivors of the shooting spree described hiding and fleeing into the water to escape.
Police arrived on the island an hour and a half after the gunman first opened fire, because they did not have quick access to a helicopter and could not find a boat to reach the scene just several hundred yards away.
When the armed officers did locate a boat they overloaded it, causing it to breakdown. Breivik surrendered when officers finally reached him on Utoya at 6.35pm.
Oslo police director Oeystein Maeland said later: 'I regret we weren't able to arrest the suspect earlier than we did. Could police have been faster? The answer is yes.
'If the boat hadn't been over capacity, police would have been on Utoya faster. If it would have led to another and better result is nothing we know for sure, but we can't rule it out.
'And it's tough, like I've said before, to think that lives thereby would have been saved.'
Chilling accounts soon emerged of what happened at the camp. A 15-year-old, Elise, said she heard gunshots but then saw a police officer and thought she was safe.
Then the man started shooting people in front of her. She said: 'I saw many dead people. He first shot people on the island. Afterwards he started shooting people in the water.'
Dana Berzingi, 21, said several victims 'had pretended they were dead to survive'. But after shooting them with one gun, he blasted them in the head with a shotgun, he added.

Chalukya




Posts

: 109


Join date

: 2012-06-01



WHO ON EARTH COULD DEFEND BREIVIK'S ACTIONS?
Breivik (right) is not lawyer Geir Lippestad's first unpopular client - after in 2002 he represented a neo-Nazi who knifed to death a mixed-race teenager in Oslo.

The murder of Benjamin Hermansen - son of a black Ghanaian father and white Norwegian mother - sparked public outcry in Norway.

His decision to represent Ole Nicolai Kvisler put him in the national spotlight, and his reputation for helping brutal murderers receive a fair trial is set to be demonstrated again.

Lippestad, 47, initially said no. The killing spree received global attention, and the lawyer is a member of the Labour Party, whose youth camp was attacked on Utoya island.

But after talking to his wife he decided he should take the case on. He will be assisted in the trial by Vibeke Hein Baera, Tord Jordet and Odd Ivar Groen.

Breivik first appeared in court in Oslo on July 27 last year. Lippestad said his client had wanted to revolutionise Norway's society and had 'confessed to the factual circumstances' of the atrocities but denied criminal responsibility.

He described Breivik as a 'very cold' person who appeared to have no idea of the worldwide revulsion at his acts.

A psychiatric report presented to the Oslo district court on Tuesday backed up Breivik's own claim that he is sane, and contradicted an earlier assessment that declared him psychotic.

Chalukya




Posts

: 109


Join date

: 2012-06-01



THE MAKING OF A MASS KILLER
Right-wing fanatic Anders Breivik sees himself as a 21st century crusader battling against Islam in Europe.

He's confessed to the attacks but denies criminal guilt, saying he acted to stop colonisation by Muslims, happening because of the immigration policies of those in power.

A psychiatric assessment found him to be psychotic and suffering from paranoid schizophrenia, but he insists he is sane - a view supported by a second assessment ordered by the Oslo District Court.

Judges at his trial will decide whether he is insane or not.

Breivik attempted to justify his views in a 1,500-page manifesto published on the internet before the atrocities.

He claimed to be part of a secret organisation modelled on the medieval Christian military order the Knights Templar, which aimed to purge Europe of Muslim influence in a revolution that would target what he called 'cultural Marxists' in the initial phase.

The document spelt out Breivik's extreme nationalist philosophy as well as his methods. It described how he bought guns, tons of fertiliser and other bomb components, hid collections of weapons and evaded police suspicion in the run-up to the attacks.

Before the killings, Breivik spent much of his time absorbed in online gaming, mostly playing the World of Warcraft series.

He was a high school dropout and, the court heard, made money by forging diplomas and certificates under the company name Diplom Service, which folded in 2006.

Police were unable to substantiate his claims of being in a group and believe he acted alone.

It was widely reported in the wake of the attacks that Breivik had made postings on British nationalist websites.

But Norwegian authorities said there was no evidence of links to the English far-right.

Chalukya




Posts

: 109


Join date

: 2012-06-01




---
Permissions in this forum:
You
cannot
reply to topics in this forum