Man wearing T-shirt saying Guns dont kill people,I do threatens to blow everybody up for losing job;two dozen semi-automatic rifles,shotguns found at his home
MARYLAND Calling himself a Joker'',a Maryland man with an arsenal of guns threatened to blow everybody up at a firm he was being fired from,and was wearing a T-shirt that said Guns don't kill people,I do'' when police confronted him,authorities said on Friday.
Police 'thwarted the massacre' just a week after the Colorado's movie theater shooting,where James Homesallegedlykilled12peopleand injured 58 during the screening of the latest Batman film.
Fridays suspect,identified as 28-year-old Neil E Prescott,told a supervisor at software supplier Pitney Bowes that he wanted to see his boss brain splatter all over the sidewalk,authorities said.
I'm a joker and I'm gonna load my guns and blow everybody up,''Prescott said.
The threats were made repeatedly in two separate phone calls this week,and investigators who searched Prescott's apartment on Friday found several thousand rounds of ammunition in 40largesteelboxes,and about two dozen semi-automatic rifles,shotguns and handguns.
The weapons so far appear to have been purchased legally but are still being examined,an official said.
It wasn't immediately clear when the threat was to be carried out or how seriously it was,but last week's mass shooting at a Colorado movie theatre coupled with the Joker reference put police on edge and gave the comments extra urgency,officials said.
Though there's no other indication of a link to the Colorado shooting,police believe the joker comments were a clear reference'' to the killings.The Colorado accused,James Holmes,had called himself The Joker.
Prescott was taken into custody Friday and was receiving a psychiatric evaluation at a hospital.
We cannot measure what was prevented here,but we think a violent episode was avoided,'' police said.AGENCIES
BATMAN SHOOTER WAS A PSYCHIATRIC PATIENT
DENVER The former college student accused of the Denver theatre shooting rampage last week had been under the care of a psychiatrist who was part of a campus threat-assessment team.The disclosure came in court documents filed Friday by lawyers of accused James Holmes.
The defence attorneys are seeking a court order requiring prosecutors to turn over a package that Holmes sent to Dr Lynne Fenton and was later seized by investigators."Mr Holmes was a psychiatric patient of Dr Fenton,and his communications with her are protected,"the filing said.Fenton provides psychotherapy for students and is on the "behavioural assessment and threat assessment team".It could not be ascertained if Fenton was caring for Holmes under the program or routine counselling.AGENCIES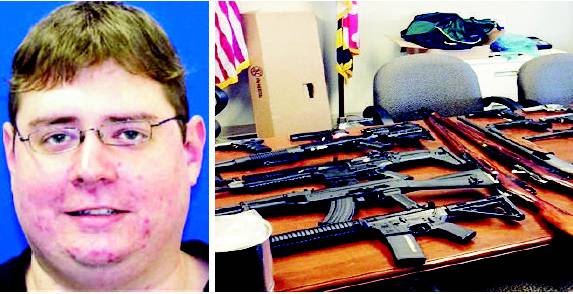 Bankapura




Posts

: 40


Join date

: 2012-06-04




---
Permissions in this forum:
You
cannot
reply to topics in this forum